The Ultimate 2023 Guide: Top 5 Custom Embroidered Caps for Your Business
Whether you're orchestrating a fun-filled staff picnic or gearing up for an impactful trade show, custom embroidered corporate caps are an unbeatable choice for promotional merchandise. Over the past few years, these logo-embroidered hats have not only maintained their popularity as giveaways but have also become a trendy item in the retail market, making them a fantastic option for boosting brand awareness.
Choosing the Perfect Cap for Your Business
With literally thousands of options to choose from, how do you select the perfect cap that represents your brand and resonates with your audience? That's where WSC Image, with over 25 years of experience in providing quality embroidery and customized apparel, comes in. We've curated a list of our top 5 embroidered caps(link=https://wscimage.com/wsc-top-5-caps/) that are perfect for small to medium-sized businesses. Let's dive in!
1. Sandwich Peak Cap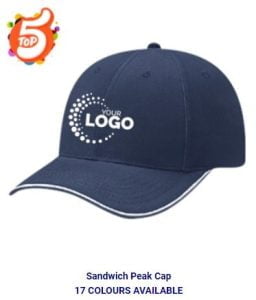 The Sandwich Peak Cap has been a long-standing favourite in our collection. This cap, with its brushed cotton feel, adjustable Velcro back, and a pop of colour on the sandwich peak, is available in 17 vibrant colours. It's a budget-friendly option that doesn't compromise on style or quality.
Perfect for: Trade show giveaways, staff uniforms, golf tournament prizes, and other corporate events.
2. UA Fitted Cap
The UA Fitted Cap is a crowd-pleaser. With its impeccable fit, stylish design, and availability in a wide range of sizes and four classic colours, this cap is a premium option for those looking to make a statement.
Perfect for: Retail store sales, high-end customer giveaways, staff appreciation events.
3. Embroidered Flex Fit Cap
The Embroidered Flex Fit Cap has been a top seller for over a decade. Known for its excellent fit and available in a large range of sizes and 15 colours, this cap sets the standard for all other fitted caps.
Perfect for: Ball teams, corporate giveaways, retail store sales.
4. Richardson Adjustable Snapback
The Richardson Adjustable Snapback, a relatively new addition to our collection, has quickly gained popularity. Known for their high-quality caps, Richardson doesn't disappoint with this model. With a high front, mesh back, snapback, and availability in 36 colours, this cap is a versatile choice for all.
Perfect for: Trade show giveaways, retail stores, staff appreciation events.
5. Fullfit Mesh Back Cap
The Fullfit Mesh Back Cap is our top pick for a budget-friendly, high-quality, one-size-fits-all cap. Available in three versatile colours, this cap is an excellent choice for businesses looking for an affordable giveaway that still exudes quality.
Perfect for: Trade show giveaways, staff uniforms, prizes, and more.
Wrapping Up
So there you have it – our top 5 picks for custom embroidered caps. While there are many other fantastic options we love but had to leave out, this list is a great starting point for your promotional cap order.
Still have questions? Don't hesitate to reach out to us at 519-421-1453, where our experienced sales team can help you pick the perfect hat for your next event or giveaway. At WSC Image, we're all about helping your business make a lasting impression.